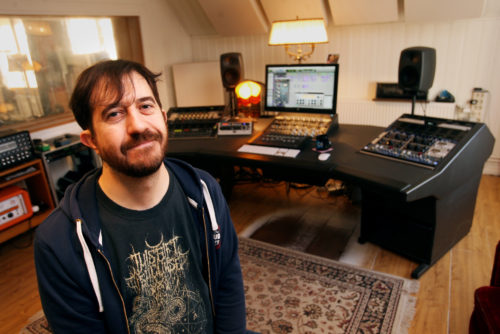 Hi! I'm William Blackmon, a producer, mix- mastering- and recording engineer from Sweden. I run a recording studio in Gävle (Sweden) called The Overlook where I do most of my work since the turn of the millennium.
Clients I've worked with include Scar Symmetry, Skraekoedlan, Beardfish, Isole, Isobel & November, FKÜ, Victims, Lack, Birdflesh, Facada, The Arson Project, Arreat Summit, Whoresnation among lots of others. I'm also the drummer of Gadget, and have done all of our recordings apart from the first album.
If you have any questions or want a quote please get in touch!
/Will
Recording
I manage The Overlook, a recording studio in central Gävle, Sweden. Literally next door neighbours to the central train station which makes commuting super easy. Gävle is only 180km north of Stockholm and just 140km from the biggest airport (Arlanda). You can get from the airport to the control room in 70 minutes!
I have one medium sized recording room, a medium sized control room and a hallway we use for amps. There are also tie lines that run down to the main concert hall (ex Church hall) that can be used for a massive big hall sound.
The studio is built around a digital workflow but with options for analog processing. I run Pro Tools loaded with an extensive collection of plugins, but also house a small collection of nice outboard, such as a couple of Distressors (w/ British mode). There are plenty of I/O to patch in whatever is needed.
Flexibility and recallability is my motto.
Mixing
Nothing in the process of making an album is more critical than the mix. It's where all the ambitions and creative process of tracking comes to consolidate into a final product. Thousands of micro-decisions together determine the fate of the material and if it's not right, not even the best master in the world can fix it.
I love mixing. It has always been my favourite part of the process.
Hire me and I will commit to making your material sound great!
I have an amazing setup for reamping too, should your material need it. This is a good option for bands on a tight budget – track your guitars at home and let me process them here.
All my mixes come with mastering included!
I provide both materials to my mix-clients so they can choose to either use my master or take my mix to another mastering engineer, or even to remaster at a later stage for a new format.
Mastering
I also do mastering alone and can make sure your mixes reach their full potential and also sound great on all platforms. I'm certified for the "Mastered for iTunes" standard and can prepare masters for any format you need.
I do not charge extra for "Stems mastering". In fact, I encourage you to go this route if you can. It will make for a better end result.
More info
For a more info on these services, please read this PDF with a comprehensive summary of very useful information, for you and/or your engineer.
Get in touch if you have any questions or want to discuss a project!